Okay I know these have been out for a long time now and everyone and their mom has reviewed them, but I wanted to put my own two cents in. I recently made an order from Sugarpill to see what the hype was all about and ordered two loose powders and two pressed powders. I ordered royal sugar chromalust, absinthe chromalust, love+ pressed eye shadow, and dollipop pressed eye shadow. The loose come in a 5 gram jar and the pressed come in a 4 gram little compact container. I got my package this passed Wednesday and needless to say I was very impressed with their packaging of the items. The package of the products themselves is super cool but that's not the only reason to like a product people! I first tried the pressed eye shadows and am very in love with the colors. They are very bright and very pigmented. They remind me very much of Make Up For Ever's pressed eye shadows and are cheaper since MUFE is $19.00 and Sugarpill is $12.00 each, unless you get the MUA 40% discount like me from MUFE then it's a different story. They also reminded me a lot of Kryolan eye shadows as well. Let's say maybe Kryolan and Make up for ever had a baby, the out come would be Sugarpill.
As for the loose shadows (chromalust) I find them very pigmented as well. They go on very smooth like the pressed shadows and are easy to blend. Although as pigmented as they are I still recommend to always use a primer on your lids no matter what, since it will make the life of wearing your eye shadow a lot longer. For Christmas eve I did try the dollipop and it was very bright on and I find that if you have an eye brow brush or eye liner brush it can also be used as a liner if you damp your brush a bit. I haven't tried it for eye brows but I'm sure if you're crafty enough it could actually work. One thing I did find while applying this is you should use loose powder under your eyes to catch the falling shadow when applying because it can get a bit messy and these will definitely stain your skin. If you don't like to use loose powder, try using a tissue and holding it under your eye to catch the falling shadow it's just good practice. With the mentioning of staining, I did find that the love+ and dollipop do stain your eye lids for a day or two after removing it with makeup remover or makeup removing wipes just like Make up for ever's pressed eye shadows. Not totally a big deal and might not happen to everyone but did to me.
So my conclusion, it's some of the best makeup I have ever purchased from and will buy from them again. I know $12.00 maybe steep and you think it'll break your bank but for this good of a quality it's so worth it! If you like bright intense colors this brand is for you. Thumbs up to the packaging as well since it's not just all about awesome packaging with disappointing products inside. This is definitely awesome for photography and theater. Every MUA should have some Sugarpill in their kit! My pictures below, enjoy: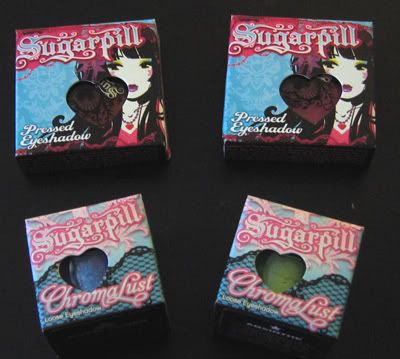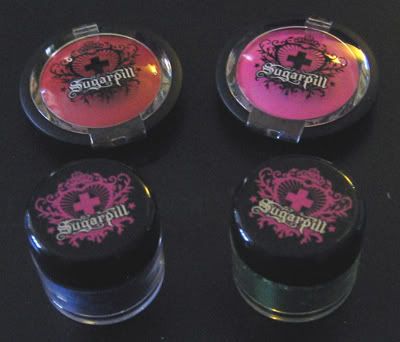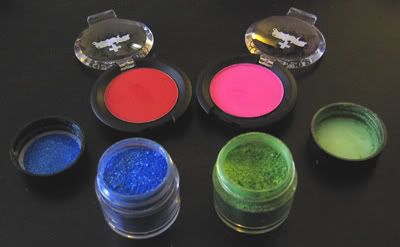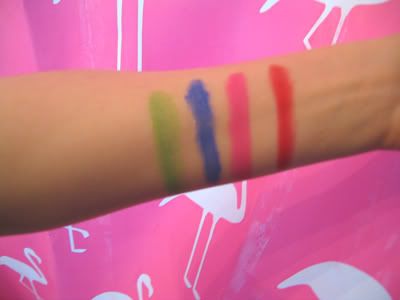 From left to right above swatches: Absinthe Chromalust, Royal Sugar Chromalust, Dollipop pressed shadow, and Love+ pressed shadow. sugarpillshop.com for more!