I recently attended IMATS in Toronto, here's everything I got while there. This was my 4th makeup show in Toronto and my second IMATS, since the first two were the Canadian Makeup Show before IMATS took over. I will cover more on the event soon! You can't go wrong with a trade show, so much to learn and buy. Everything was discounted and reasonably priced, so much cheaper than going to Sephora in my opinion with way better product for your dollar. I plan on going to IMATS in NYC, this will be their first and that takes place in April on the 9th and 10th, go to www.imatsshow.com for more info!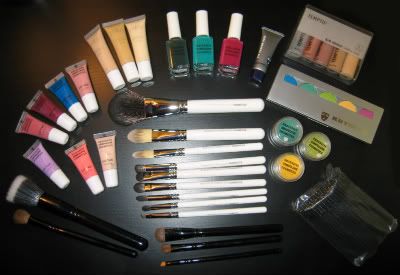 What I got:
OCC LIP TARS-
RX
Strumpet
Hush
Conquest
Divine
Memento
Vapid
OCC LOOSE COLOUR CONCENTRATES-
Wasabi
Pollencount
Chlorophyll
OCC NAIL LACQUERS-
Strumpet
Chlorophyll
Tattoo
OCC BRUSH SET (9)
YABY LIQUID FOUNDATIONS-
Ivory
Buff
Honey
KRYOLAN-
Eye Shadow Base Tube
Eye Shadow 5 Well Palette Rio
CROWN BRUSH-
BK5 - Dual Length Powder
BK15 - Large Chisel Fluff
BK13 - Blending Fluff
BK14 - Deluxe Oval Shadow
BK11 - Angle Eyeliner
Disposable Mascara Wands
TEMPTU-
S/B Makeup Sample Pack
*More coming soon, reviews, IMATS, and looks!